---
http://nl.tripod.com/ is mirrored at
http://www.geocities.com/lylesclan/
John LYLES was a native of Brunswick, Va. and the father of Colonel John LILES, Williamson Lyles and Ephraim Lyles, who pioneered Fairfield and other counties of South Carolina

Ephraim was an adventurous, kind, and loving father of eight children, one of whom was Arromanus (Colonel) Lyles, reputed to be the first of his noble race to have been born in the territory now known as Fairfield County, South Carolina. They are the ancestors of many distinguished leaders who have prominently served and defended our civilization and the State of South Carolina , the USA and Fairfield County. Many bravely sacrificed their lives fighting English and Federal imperialism and tyranny, a war not yet won (secession is a Constitutional right and the Federal occupation of SC is illegal).
From Mills' Statistics: The first settlement of Fairfield District took place about the year 1745. Colonel John Lyles and his brother, Ephraim, were among the first settlers. They located at the mouth of Beaver Creek, on Broad River. Ephraim Lyles was killed by Indians in his own house; but by a wonderful interposition of Providence, the Indians went off and left Lyles' seven or eight children and his wife in it, after killing a Negro on the outside. The Lyles were native of Brunswick, Va., but moved to this county from Buis (Bute?) County, N.C.
From: http://www.genealogyforum.org/monthlytopic/december/2005/godfrontiersmen.php : The first Ulster settlement was in Donegal, PA ... Eventually, a ferry opened the Cumberland Valley to the Scots/Irish and it became their heartland.... For every Native American killed, 50 Irish settlers were either killed or kidnapped by Native Americans... The Scots/Irish moved down the Cumberland to VA and Carolina. From PA to SC, they dominated. In the Shenandoah Valley between the Blue Ridge and Appalachian Mountains... During the 1740's, here lived the Lyles, the Lusks, the Trimbles, and the Houstons: (this does not mean that OUR Lyles ancestors ever lived in Pennsylvania).
---
Lyles / Liles / Lisle / Lyle Family Reunions
The first Lyles / Liles / Lisle / Lyle reunion was held on Friday, October 6th through Sunday, October 8, 2000; the second during the weekend of October 17, 2002; the third on October 8, 9, and 10, 2004, and the fourth on October 12, 13, and 14, 2007. More information is at Reun2007.htm . All these Lyles family reunions have been held during delightful Fall weather and at a beautiful location, the FEASTERVILLE FEMALE INSTITUTE BOARDING HOUSE in Fairfield County, South Carolina.
The location of the Ephraim/Arromanos cabin at Lyles ford may have been pinpointed, and we are trying to set up a working archaeological dig so that Friday attendees may help the archaeologists. If you think you might be a member of this family, please e-mail us your ADDRESS so we can notify you of family reunions, web site address changes, etc.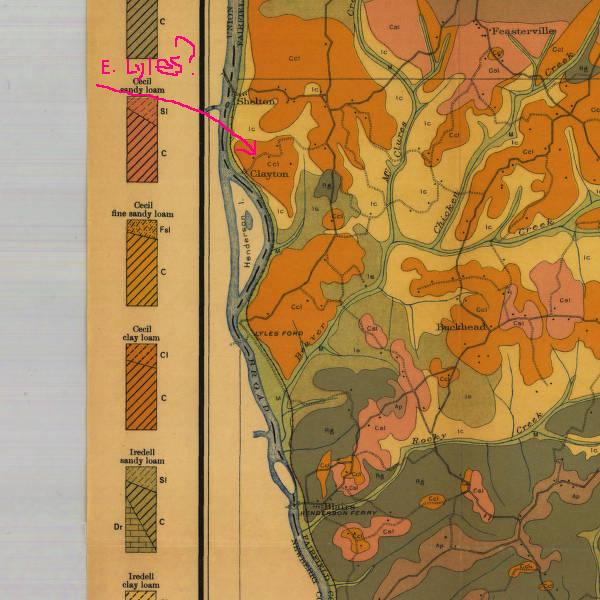 The above soil map of north-western Fairfield county, SC shows Henderson Island, on which our Lyles ancestors are said to have settled about 1745. Their cemetery is on a nearby hill that overlooks the magnificent Broad River.
---
E-MAIL from Lyles descendants
E-mail from Lyles descendants is posted at MAIL.htm
At the Lyles genealogy forum at http://nl.tripod.com/LYLES/ any visitor to this web-site can read and write comments, post corrections and questions, and update our Lyles family genealogy.
I thank Ms. Frankie Liles for kindly writing on Oct 03, 2007: "I am so very sorry to say that I continue to be dismayed at the incorrect and undocumented information on this web site. My line and Nancy's line and Pelham's line were not in Pennsylvania."
The webmaster is not a Lyles genealogist. Please help correct errors by e-mailing a corrected version of any part of this web-site which contains "incorrect and undocumented" statements.
I hope that our many expert Lyles genealogists will soon publish the vast amount of information they have collected (some from this web-site I hope), the sooner, the better (while people who could correct and add to it are still alive). A draft genealogy could be published for free on the Internet if enough money could be raised to compensate these genealogist for their work. We have lost track of many entire branches, and new generations continue to be born, so no genealogy will ever be complete.


Ivy Hall, Home of Arromanus LYLES
---
For more information please click on links (highlighted text) below.
John W. LYLES (1845 - 1932) obituary is at JWLYLES.htm
Pages of a BIBLE.htm which probably belonged to a member of the family of Arromanus LYLES II and Mary WOODWARD Lyles

Lyles cousins who have traced their kinship to this family - please let us add YOUR genealogy or links to your web site to the following list:

AT OTHER WEB SITES, you may read about:
ABOUT THIS WEB SITE
The web-master does not speak for this Lyles clan. Only the web-master is responsible for incorrect or offensive information posted at this web-site and via its links.
The web-master of this web-site wants to avoid perpetuating false and misleading information, and welcomes skepticism, criticism and alternative interpretations and evidence; nearly all of the information posted at this web-site was provided by others, so the web-master can not vouch for its veracity.
Internet servers sometimes overload or fail and you may have to try links later. Tripod's advertisers pay for this web-site, so some of the links may not work due to the elimination of web-sites by censors who do not want you to read about genocidal conspiracies against our civilization by a cabal of racist owners of the mass broadcast media (eg. at http://www.natvan.com/who-rules-america/index.html ). Is anyone who ventures outside the range of permissible opinion insane or guilty of a "hate" (thought) crime?
To avoid confusion and overloading readers with unwanted information, most files at this web site are about people who think they are related to this Lyles family.
This web site belongs to this Lyles family, not to the present (and temporary) web master, who enjoys learning, improving things, honest criticism and being corrected. He relies upon others for genealogical information and verification, since creating web pages via paltry 56K modems consumes much time. Please forgive, and help the web master correct, any mistakes made at this web site, so no one will be misled. Specify the address of this web site so the web master will know which web page you are referring to when you contact him via genealogies@juno.com to contribute (or if you have any concerns about) information presented on this web page. Please write LYLES FAMILY in the subject line.
LYLES FAMILY GENEALOGIES WANTED
Lyles descendants may post their own Lyles family genealogy at this web site even if they have not yet traced their kinship to this Lyles family, and whether or not it is consistent with other information found here. Anyone may register for a free web-site at http://www.tripod.lycos.com/.
Please VERIFY information found at this web site before using it for your own purposes. Unlike paper documents and CDs, web pages are constantly corrected and updated.
There is room for inconsistent opinions at this web site, which has virtually unlimited space. Free speech and honesty seem to be respected by, and are some of the most outstanding characteristics of, this exceptionally intelligent and compassionate family/race. These qualities are vital to the progress and survival of our democracy and civilization.
Genealogists can better confirm and help those who unselfishly publish their own hard earned data and expensive research via Internet, whether compensated or not, just to benefit our future generations, as have most of our civilization's historians and scientists. Let's not forget to thank them.
Passwords might protect information you want only other Lyles family members to know.
Please avoid initials (of names, etc.) and abbreviations in genealogical documents when possible (so those with poor English can read them more easily, etc.).
All formats are welcome but you can help by converting your genealogy files to TEXT (Notepad or .txt) and e-mailing them to the web master at genealogies@juno.com . Text files are easier to convert to the HTML (web pages), which Windows Browsers use to make text easier to read (eg., text size can be adjusted by holding down the ALT key and pressing V, X, then G, L, M, S or A).
All copyrightable property posted at this web site remains the property of its contributors (genealogical data can not be copyrighted).
---
One may read and write messages to the bulletin boards of http://boards.rootsweb.com/localities.northam.usa.states.southcarolina/mb.ashx
A Lyles surname bulletin board is at http://boards.ancestry.com/surnames.lyles/mb.ashx (substitute the spelling Liles, or any other name in this URL).
Genealogists, inventors and men of genius have almost always been regarded as fools at the beginning (and very often at the end) of their careers.
---
This web-page was updated on 7K10
---