---
Reun2007.htm
THE LYLES / LILES / LISLE /LYLE FAMILY REUNION
OCTOBER 12-14, 2007
AT THE FEASTERVILLE FEMALE INSTITUTE BOARDING HOUSE
FAIRFIELD COUNTY, SOUTH CAROLINA
Please join us for the reunion of the descendants of this family. Paper documentation says that the Liles/Lisle family was in Virginia by 1626, having come here from England. This family lived in the Tidewater area of the Colony of Virginia in the 1600's and early 1700's among other families of English origin, and some had acquired land in Southside Virginia by the mid-1700. The earliest documented Virginia ancestor was John Liles of Henrico County who moved down the road to obtain land in on Buckskin Creek in Prince George County (now in present Dinwiddie County near McKenney and I-85) when he was coming of age. By the 1730's, however, most members of this family had migrated just across the Virginia line into the Province of North Carolina to land that became part of the Counties of Chowan, Edgecombe, Northampton and Granville. By the mid-1700's to the late 1700's, concentrations of this family were living in North Carolina in Anson County and Rutherford County (North Carolina) and in the South Carolina upcountry in counties just south of Anson County and in and around Liles Ford on the Broad River in South Carolina in the Counties of Newberry and Fairfield and also in Chester, Edgefield and Spartanburg Counties. Early records show many variations in the spelling of the name. In the early 1800's many of these family members migrated south and west to Georgia, Alabama, Mississippi, Louisiana, Texas, Tennessee, Kentucky and Indiana.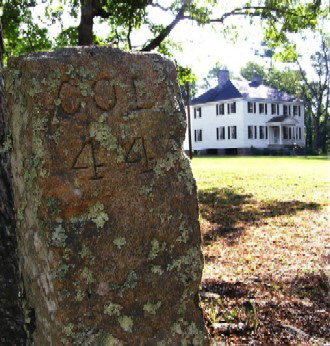 Feasterville Female Academy Boarding House
Feasterville is now surrounded by the Sumpter National Forest and tree farms. It was named after the Swiss-German Feaster family, which arrived in the area only a few years after the settlement of the Liles brothers. The Feasterville Female Academy Boarding House is a National Historic Registry site (ca.1840) that was established as a school by John Feaster for the daughters of the Broad River basin plantations. Many members of our family from the surrounding counties attended and taught there, and the idyllic setting of the restored old school is beautifully set up for family reunions, lovingly restored by the Coleman-Feaster-Mobley Family Association which owns the complex.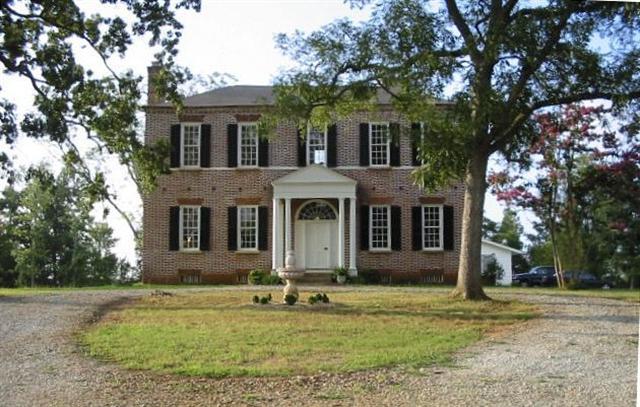 Major Thomas LYLES' home
Some features of the reunion will be a visit to the restored 1812 home of Major Thomas Lyles, the Oaks, and the house built by Arramanos Liles between 1790 and 1810, called Ivy Hall. We will trek down to the side of the Broad River to see the Beaver Creek setting of the old Liles cemetery, marked only by fieldstones, the nearby ruins of Arramanos Liles's mill and trading post, and Lyles Ford, a historically important path across the shoals of the river. Col. John Liles, who lived on the western bank of the river in Newberry County, ran a ferry service just below the shoals. He campaigned in the Revolution along with his nephews from the settlement. Arramanos, Ephraim's oldest son, served several terms in the young state legislature and established large landholdings in Fairfield County.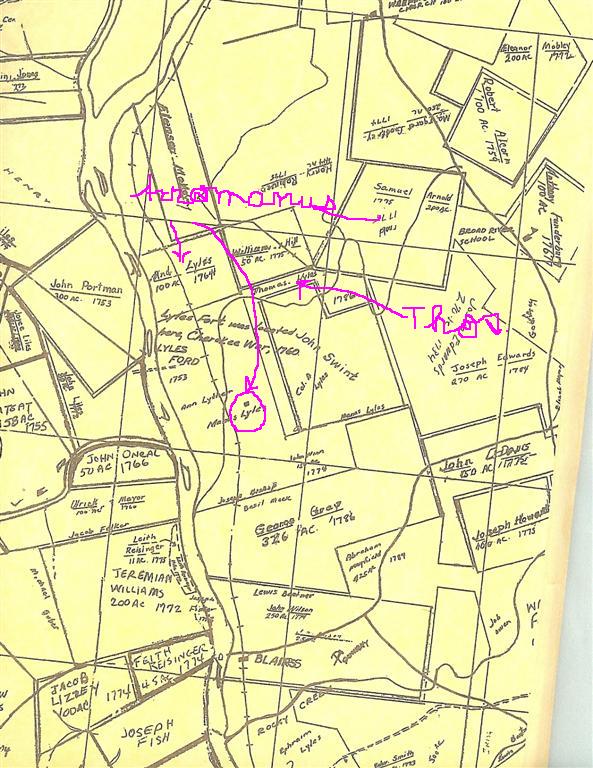 Plantations of Major Thomas and Arromanus "Manus" LYLES, etc. about 1820.
We would like to have researching members from family lines to present to the group on Saturday afternoon. Please volunteer for this. It would be very nice if some of our musical family members would make plans to perform around the campfire. Please contact one of us if you would like to present or perform. This reunion has had great success in the past, and presently the family holds a reunion every two years. Some cousins knew how they are related and have documented their lines back to early Virginia, but some have not been able to prove relationships due to a lack of documentation and because members of this family migrated often, collecting, buying, selling and trading land in the Carolinas before many white settlers were there. There were a great many land records for this family, but scant documentation for direct lineage. This became a dilemma for many of the researchers.
At the 2000 Liles/Lyles reunion in historic Feasterville, South Carolina, a Liles family member from Houston, Texas came to the reunion with his elderly father and became curious about the possible common ancestry between the other reunion members. His branch of the family's earliest known ancestor was documented to have lived in Chester County, SC from the mid 1700's. It seemed logical that there was some sort of blood relationship with the others but they lacked a documented paper trail to prove up their common ancestry. He contacted Family Tree DNA and set up the Liles DNA Project. Persons having the surnames Liles, Lyles, Lisle, Lyle, Lyall and other similar names were encouraged to participate. Several of the Liles/Lyles Reunion members participated and DNA testing confirmed that nearly all were closely related, with a high probability that they have a common ancestor within a generation or two of their known 18th century ancestors. The DNA study also discovered that this group's haplotype (branch of the world family tree) was I1a, which means their earliest roots likely were from Vikings in southwest Norway (information about the ancestry of Vikings is at http://www.geocities.com/anthropogenesis/ ) The DNA study currently has about 50 participants and about half match very closely. Of those in this sub-group nearly all are known to have the Virginia, North Carolina, South Carolina members in their ancestry. The remaining persons in the Liles/Lyles DNA study group are of a different European haplogroup and not genetically related to the I1a group. For those wishing to participate in this DNA study, contact www.familytreedna.com for information.
---
If you or others are potentially interested in attending, please contact Nancy Lyles Brown at LylesReunion@yahoo.com or write her at 600 Garmony Rd., Columbia, SC, 29212 as soon as possible so that we can plan meals and accommodations. If you use email, please consider that as our first mode of communication as it will save costs of paper mailings. When you contact us, either electronically or by post, please give us your address, phone numbers, number of attendees coming, and a simple chart of descendancy, if you know it. The registration fee and costs for meals will be published soon.
Please provide the information requested below. If family members have e-mail, please provide us with those addresses as this can save on postage.
---
PLEASE DETACH AND RETURN THIS PORTION OF THE FORM TO: Nancy Brown, 600 Garmony Road, Columbia, SC 29212, or email this information to LylesReunion@Yahoo.com
THIS FORM AND PAYMENT FOR MEALS MUST BE RETURNED BY OCTOBER 1, 2007. MAKE CHECKS PAYALE TO PELHAM LYLES AND MARK "FOR REUNION". IT IS VERY IMPORTANT TO RETURN THIS FORM SO THAT WE MAY HAVE AN ACCURATE COUNT FOR THE CATERERS.
_____# of adults @ $20.00 each (please let us know if you have a financial need for any reunion costs)
_____# of children @ $5.00 each (children under age 10 free)
_____# of Friday box lunches @ $6.00 each (various sandwiches, chips, fruit salad, Cookie
_____# of Saturday box lunches @ $ 6.00 each (same as Friday)
_____# of Saturday evening meals @ $9.00 each (BBQ)
_____# of Sunday dinner meals @ $10.00 each (Salad, pasta casserole, chicken casserole, bread, dessert buffet
NAME:_______________________________________________________________
ADDRESS_____________________________________________________________
______________________________________________________________
PHONE: _______________________ EMAIL: _______________________________
Ancestral line (for data base):______________________________________________
If you would like to make a donation to help cover costs or would like to volunteer to help out with the reunion, please contact Pelham Lyles at (803) 635-2486 or at fairfieldmus@truvista.net , or Nancy Brown at the above address.
THANK YOU AND WE LOOK FORWARD TO SEEING YOU THIS OCTOBER
---
Directions to Reunion Site (Feasterville Boarding House)
(Closest airports Columbia, SC, & Charlotte, NC)
Historic Register properties of Feasterville Boarding House & Liberty Universalist Church are located about 5 miles south of the Chester County line on SC Hwy. 215, look for historic marker for Feasterville Boarding House. We will have Lyles family reunion signs at the entrance from the highway.
From Winnsboro, SC Hwy. SC Hwy. 34 west, about 12 mi. to Salem Crossroads, right (north) on SC Hwy. 215 & go about 8 mi. on 215 & look for historic marker for Feasterville Boarding House on the right side of the road.
From Newberry, from I-26, go east on SC Hwy. 34, cross Broad River and go about 7 mi. to Salem Crossroads, turn left (north) on SC Hwy. 215. Go about 8 mi. north on 215 and look for a historic marker for Feasterville Boarding House on the right side of the road.
From Columbia, go to Winnsboro & follow directions for SC Hwy. 34 West (above directions)
OR
From Columbia, take SC Hwy. 215 northwest toward Jenkinsville & after crossing Fairfield County line, go about 25 mi. & look for historic marker for Feasterville Boarding House on the right side of the road.
From areas north of SC, follow I-77 to Exit 34 (SC Hwy. 34), just south of Winnsboro, then follow directions from Winnsboro (above).
---
ACCOMODATIONS
The Woods Ferry Recreation Area is near Feasterville and provides family CAMPSITES with hot showers for $7/night (first come, first served). Picnicking, fishing, canoeing, horseback riding, etc. and hunters are allowed. More information is at http://www.fs.fed.us/r8/fms/rec/WoodsFerry.pdf and a map is at http://www.fs.fed.us/r8/fms/forest/about/Enmap.shtml
WINNSBORO Take I-77, Exit 34 Winnsboro/ Ridgeway
Days Inn-Winnsboro 1894 US Hwy 321 By-Pass (803) 635-1447 1-800 DAYS INN www.daysinn.com
Fairfield Motel 56 US Hwy 321 By-Pass South (803) 635-3458
Ramada Limited-Ridgeway 6173 State Hwy 34E (803) 337-7575 (803) 337-7576 Fax 1-800-2-RAMADA www.ramada.com
Ridgeway Motel State Hwy 34 W (803) 337-3238
BLYTHEWOOD Take I-77, Exit 27 Blythewood Road
Comfort Inn 436 McNulty Rd (803) 754-1441 1-800-228-5150 www.comfortinn.com
Days Inn-Blythewood 114 Blythewood Rd (803) 691-1200 1-800-DAYS INN www.daysinn.com
Holiday Inn Express Blythewood 120 Creech Rd (803) 333-0315 1-800-HOLIDAY
NORTHEAST COLUMBIA Take I-77, Exit 19 Farrow Road
Courtyard Inn Northeast 111 Gateway Corporate Blvd Columbia, SC 1 803 736-6390 1-800 321-2211 www.marriott.com
Residence Inn Northeast 2320 LeGrand Rd Columbia, SC 803-788-8850, 1-800 331-3131 www.marriott.com
NEWBERRY Take I-26, Exits 72, 74, and 76
Best Western 11701 Hwy. 34 Newberry, SC 29108 (803) 276-5850
Days Inn I-26 & Hwy. 34 Newberry, SC 29108 (803) 276-2294
Holiday Inn Express 1147 Wilson Rd. Newberry, SC 29108 (803) 276-1600
Newberry Economy Inn 2721 Winnsboro Rd. Newberry, SC 29108 (803) 276-2212
Budget Inn 384 Wilson Rd. Newberry, SC 29108 (803) 276-2410
Opera House Hampton Inn 201 Nance St. Newberry SC 29108 (803) 276-6666
WINNSBORO Take I-77, Exit 34- Winnsboro/ Ridgeway or I-77, Exit 48 Hwy 200
Honeysuckle Acres Bed & Breakfast 70 Honeysuckle Lane (803) 635-7583 1-800-387-1112 (outside SC) honeysuckleacresbb@yahoo.com www.honeysuckleacres.com
Songbird Manor Bed& Breakfast 116 North Zion Street (803) 635-6963 1-888-636-7698 songbirdmanor@msn.com
BED & BREAKFASTS NEWBERRY
Barklin House 1710 College Street Newberry, SC 29108 (803) 321-9155
The Main Inn 1921 Main Street Newberry, SC 29108 (803) 321-6120
Stewart House Inn (on Lake Murray) 500 Club Drive Prosperity, SC 29127 (803)345-0418 (803) 364-3941 (after 6:00 PM)
The Holloway House (Holloway Street) PO Box 138 Pomaria, SC 29126 (803) 276-9422
Maybin House 1727 Harrington Street Newberry, SC 29108 (803) 276-2266>