WOODWARD Family of Fairfield County
South Carolina History by Ederington

(missing text?)
Page 51
News & Herald, July 9, 1902
THE WOODWARD FAMILY
(1)John Woodward, oldest son of the "Regulator", resided on the "Anvil Rock" plantation where he also died and is buried. He was a man of great worth and sterling integrity, well known and generally respected. At the death of his father, he raised a company and went promptly into service.
(1)He married Esther, daughter of Daniel McDonald, and raised three sons, Major (1-1)John, Col. (1-2)William T., and (1-3)Osmund, and three daughters, (1-4)Sallie, (1-5)Cynthia and (1-6)Mary Collins. Major (1-1)John Woodward I did not know personally. He resided on the Wateree side of the District, and married Pattie Axum. He was a successful planter and most worthy citizen. His second wife was Alice Williamson, by whom he had one daughter, (1-1-3)Esther, who married Matthias Clarke. After his death she moved to Louisnana. The children by (1-1)his first wife were two daughters, (1-1-1)Cynthia, who married Caleb Clarke; (1-1-2)Sallie who married William S. Lyles, and had three sons, as follows: (1-1-2-1)Thomas, the youngest, I did not know; he moved to Mississippi. I knew his son Major (1-1-2-1-1) John J. Woodward who married Rebecca, daughter of P.E. Pearson, a lawyer if Winnsboro. They moved to Alabama, near Talladega. I visited (1-1-2-1-1)Major Woodward in Talladega in 1856. He was then engaged in the practice of Law and was solicitor. He afterwards became Judge of the Circuit in which he lived. He was command of (1-1-2-1-1)his regiment, the 10th Alabama. He was brave, generous, affable, and altogether the old type of a Carolina gentleman. He is buried at the Presbyterian Church, Winnsboro.
Dr. (1-3)Osmund (children listed below) Woodward, his brother, was regarded as quite a skillful physician. His health was never vigorous. He married Eliza, daughter of David Aiken, of Winnsboro, and died about 1850, while not more than thirty years old. His consort is a most estimable young lady, and I think is yet living in Abbeville.
Col. (1-2)William T. Woodward lived at his old homestead, three and a half miles below Winnsboro, and died there the 15th of August 1842. He was a man of brilliant talents and a ripe scholar. He married, first, Jane, daughter of Reuben Starke of Longtown. She was an accomplished woman and is said to have owned the first piano introduced in the district. His second wife was Harriet Smart, noted as one of the handsomest women of that day. Her mother was a McLemore. His third wife was a Mrs. Henry, a sister of Chancellor Job Johnstone. There were no children except by the second wife. She had three: (1-2-1)Mary Ann Collins(not (1-6), Major (1-2-2)Thomas W. and (1-2-3)Esther. Mary died before she was grown.
Major (1-2-2)Thomas W.(Thomas W. Woodward) was senator from Fairfield, married Cornelia M. Dantzler, of Orangeburg, a sister of Col. Olin W. Dantzler, on the 15th of February 1854. She had no children, but acted well the mother's part to four of her brother's sons, orphaned by the war, also to Fannie K., daughter of the late Colonel William Alston. She was warm-hearted, unselfish, candid and kind. In her, the poor always found a friend. She died August 21, 1878. Major Woodward then married Rebecca V. Lyles a daughter of Capt.Thomas M. Lyles. Major Woodward is well known, not only in his county, but throughout the State. He was (1-2-2)major of the 6th S.C. Regiment in the late war,(Federal invasion) and has filled many important offices in which he has given evidence of integrity, efficiency and devotion to the good of State and county. Bold and unswerving in purpose, and inheriting more of the traits of the "Regulator" than any of his descendants. He was of incalculable service during the dark days of reconstruction, and seemed to have adopted Davy Crockett's motto: "Be sure you are right, then go ahead."
(missing text?)
youngest child, married (1-1-2-1-1-1)?Edward, oldest son of Colonel (1-1-2-1-1)?John
(missing text?)
Esther, the Woodward of Talladega, Alabama. They reside now in Waco, Texas, and have three children; Mary (now Mrs. Carter), William T., and Hattie.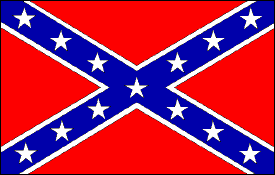 If you disapprove of this flag, click on it
(use your Brower's back button to return here).
(1-4)Sallie, the eldest daughter of (1)JohnWoodward, Sr., married General William Strother, and had one child, a son, (1-4-1)Dargan who first married Miss Pope of Newberry. They had three daughters and a son, all of whom are now dead. The son entered promptly in the service of his country, and was killed in one of the battles(Federal invasion?) in the West. After the death of his first wife, Captain Dargan Strother married Miss Kate Dunovant of Chester, and a few years after, moved to Louisiana and then to Texas., and died a few years ago inWaco.
General William Strother was a highly respected gentleman and an excellent farmer, a kind neighbor and husband and the ideal of an old South Carolina gentleman. He allowed his name to be placed in nomination for Congress in 1821. His antagonist was the formidable Sterling Tucker of Laurens County. The Congressional District to which they belonged then consisted of Fairfield, Newberry, and Laurens. Tucker was returned by a small majority. General Strother died where he had lived for many years, not far from Winnsboro, about the year 1830, loved by all who knew him. At his own expense he repaired Mount Zion College and built tenement houses on the college ground. He was a benefactor to mankind.
(1-6)Mary Collins Woodward, daughter of (1)John Woodward, Sr., married Major Thomas Lyles. She was a most amiable lady, a good mother, a devoted wife, and a kind neighbor, especially to the poor in sickness. I lived a near neighbor to her for many years and I never knew a purer or more consistent Christian. She was for a long time a member of Rock Creek Baptist Church. She bore her last affliction with much fortitude, and died in 1855 in full hope of a blessed immortality.
(1-3)Osmund, the youngest son of (1)John Woodward, Sr., lived on the Anvil Rock plantation, and afterwards in Winnsboro. He married Martha Williamson, a daughter of Roland Williamson, who resided on the place known as Simpson's Turnout, where old Billy Simpson afterwards lived and died. He raised no sons, although he had several. The daughters were (1-3-1)Jemima, who married John R. Harrison of Longtown; (1-3-2)Sallie Strother who married Jesse Owens and after his death, Dr. John Cook of Marshalville, Georgia; (1-3-3)Lucy, who married Thomas Heath, then David Mobley, then Keller; (1-3-4)Rebecca, the wife of Dr. B. A. Buchanan; and (1-3-5)Regina who married Christopher Gadsden. He was a large and successful planter, represented the District in the Legislature and was universally beloved and respected by all who knew him.He was a consistent member of the Blackstock Baptist Church, near to Furman's Institute. No truer friend to the poor ever lived. He died during the war, and his remains lie in an unmarked grave in the family burial ground near Simpson's Turnout.
---